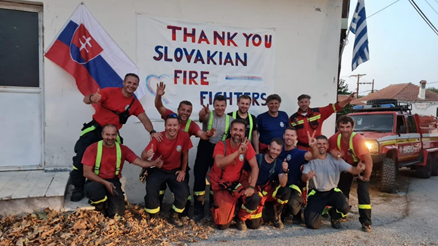 This case study is a part of a Visegrad Academy of Cultural Diplomacy. Visegrad Academy of Cultural Diplomacy is cofinanced by the Polish Ministry of Culture, Nationals Heritage and Sport via Culture Promotion Fund.
Introduction:
Scientists say there is little doubt that climate change from the burning of coal, oil and natural gas is driving extreme events. Researchers can directly link a single event to climate change only through intensive data analysis, but they say such calamities are expected to happen more frequently. It is extremely important to help and support countries during these critical times. Firefighters from Slovakia helped with fires in Greece and tornado in Czech Republic.
Greece, Athens:
Greece had just experienced its worst heat wave since 1987, which left its forests tinder-dry. Nearly 900 firefighters, 50 ground teams and more than 200 vehicles were fighting the blaze that broke out. They included crews from Ukraine, Romania, Serbia, Cyprus and Slovakia.[1]
It was a unique experience for firefighters from Slovakia. "This is the first time the Slovak firefighters have to deal with such big fires," said one of them.
"The fires are really, really large," he said, adding that this is a great opportunity for the Slovak team not only to help their spent Greek colleagues but also to see how Greece's firefighters work and deal with fires of such magnitude.
Greeks have been expressing their gratitude for the support the country has been receiving in the last few days. "During these critical times that Greece goes through we are not alone. Many countries stand effectively by our side offering human and other resources, help and support. We warmly thank them for their solidarity! " said president GR.[2]
Source: Minister of the Slovak Republic, Roman Mikulec, Facebook
The help of Slovak firefighters in fighting fires in Greece did not go unnoticed beyond our borders:
Source: The President of the Slovak Republic, Zuzana Čaputová, Instagram
Slovak firefighters have become a symbol of professionalism and nobility. Their mission in Greece was a great professional challenge for each of them. They faced a fire of unprecedented proportions. In addition to professionalism, they also showed courage, empathy, solidarity and, above all, the ability to cooperate. We felt proud at home. For a while, our firefighters managed to unite Slovakia in a positive emotion. They helped Greece and represented the Slovak Republic in an amazing way.
Czech Republic, South Moravia:
South Moravia was hit by strong storms and tornado in June 2021. In this context, firefighters from Bratislava and Trnava (cities in Slovak Republic) provided cross – border assistance to Czech colleagues. Slovak Republic was also ready to send doctors and ambulances.[3]
The President of the Slovak Republic appreciated the immediate assistance.
Source: The President of Slovak Republic, Zuzana Čaputová, Twitter
The extent of the damage, both material and human, is unimaginable, and I wish our neighbors a lot of the strength they will need to deal with the consequences of the disaster. At the same time, I appreciate the immediate assistance of Slovak health professionals to the affected communities.
Help and volunteering
The government, but also companies and individuals decided to help and gave a number of donations. On the social network, Slovaks reported, for example, collections of hygiene items, clothing, blankets and other goods as part of their assistance to the Czech Republic. One of the beauty salons on the border donated Friday's sales to help the affected area in the Czech Republic.[4]
Conclusion:
Solidarity between nations has been at the heart of the EU project right from the outset. But the same goes for a community of peoples as for a community made up of people: solidarity is born and grows stronger only with responsibility. Collective solidarity mechanisms therefore play an essential role in the cohesion of a community. Slovak firefighters and volunteers helped with fires in Greece and tornado in Czech Republic and represented our country in such an amazing way.
[1] Los Angeles Times: We fought a great battle': Greece defends wildfire response [online]. [cit. 2021-8-25]. Dostupné z: https://www.latimes.com/world-nation/story/2021-08-10/greece-defends-wildfire-response?fbclid=IwAR1EAadXhwfLHVRgBHQZraX9ODlFbnrPkk3uYDr-elNOTmgwd6GpoyxYKCM
[2] Greek Reporter: Greece Fires: Foreign Assistance Surpasses All Expectations [online]. [cit. 2021-8-25]. Dostupné z: https://greekreporter.com/2021/08/11/greece-fires-foreign-assistance-surpasses-every-expectation/?fbclid=IwAR0rYZFHOl-loEtprXHLhZPe8KS-O3oCsR7gWgHsYRsRLDUkynIbFBT32iE
3] IRozhlas: S kalamitou na jihu Moravy pomáhají slovenští i rakouští záchranáři a hasiči. Vyslali několik jednotek [online]. [cit. 2021-8-25]. Dostupné z: https://www.irozhlas.cz/zpravy-domov/silne-boure-tornado-zahranicni-pomoc-slovensko-rakousko-zachranari-hodonin_2106250029_onz
[4] CT24: Slovensko nabídlo Česku pomoc s ubytováním lidí, organizuje sbírky [online]. [cit. 2021-8-25]. Dostupné z: https://ct24.ceskatelevize.cz/svet/3331868-slovensko-nabidlo-cesku-pomoc-s-ubytovanim-lidi-organizuje-sbirky